I've been hard at work, despite my hesitation to get the torch out. And finally, I've overcome my fear of burning down the house.
My first attempt at chasing. I'm working on this piece for my partner in crime, Mina. Yes, if you do the hard work that I hate to do, I make you stuff.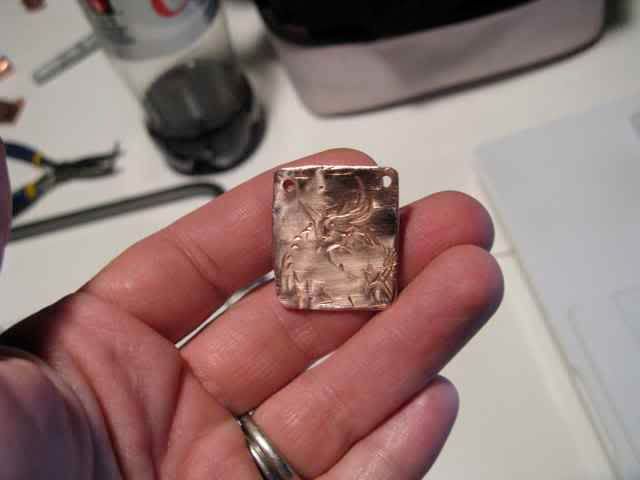 It's supposed to be the images of a wolf and a crow worked together. Kinda looks like she's eating that crow. Not a very good thing. But the fact that I can look at it and see the images, That I pounded them into the copper with a hammer and chasing tools, impresses me enough. I have no formal training with the chasing, so I didn't anneal the metal before I started. I was just too excited that I got my tools and had metal to play with. So I'm quite sure this isn't exactly what it's supposed to look like.
Today, I annealed the piece, along with several blanks, to see how well I do with softer metal. The copper is cut apart plumbers pipe, and all the working it takes to cut it and flatten it from the tube shape, has made it pretty hard. Once I've played some more, I think I'm going to go back to the wolf and try to define her better, either by working from the other side, or just adding a few more certain strokes.
I'm still working on the wire ring, and today, Solder Time!
It still looks pretty rough, but I'm happy that the joins are solid. I used a hard flowing solder, so that I can do it in 3 steps-connect the wire ends, form and join the ring, and add the bezel for the stone.
(Because, of course, I can't do anything simply, even when I'm starting out)
Tomorrow: All about the process!!!
-Simbelmyne